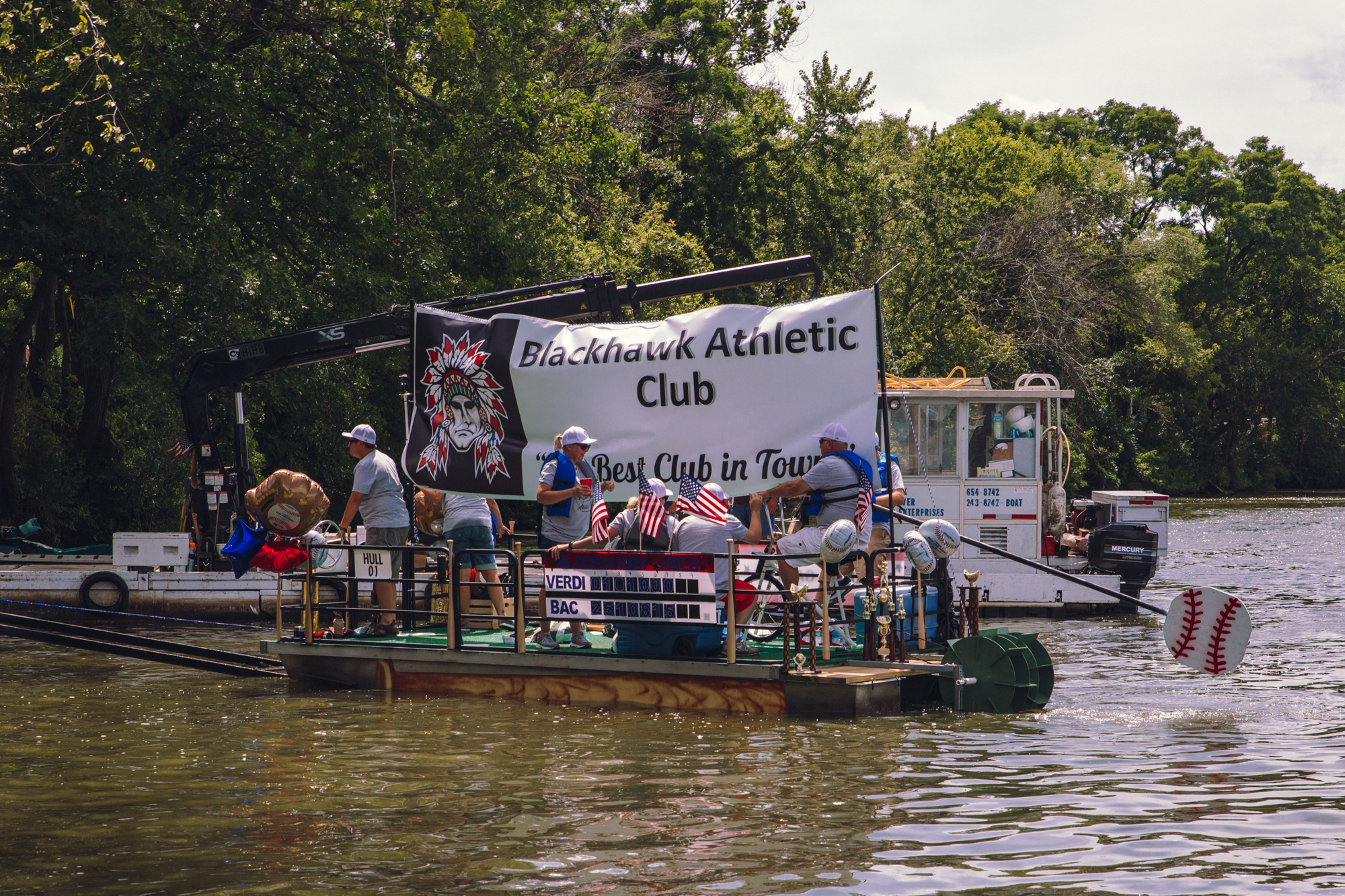 The old saying goes, "Red sky at night, sailor's delight. Red sky at morning, sailors take warning." And on Sunday, August 18, 2019, with a scarlet sunrise and a forecast for rain throughout the morning, the organizers, participants and fans planning on enjoying another Rock River Anything That Floats Race crossed their fingers and hoped that the weather would cooperate. With a slight delay, the clouds broke apart and the summer sun shone down on another spectacular flotilla of creative rafts!
2018 was a year of firsts! We witnessed the first time a local band dressed up like Gilligan (of eponymous Island and classic sitcom) made sweet music while riding on a barge in the river. Also the first time a small jet aircraft was converted into a raft, powered by nothing less than a Limebike! What's more: the first time a team of high schoolers designed, built and entered their raft - and won People's Choice. Float on, river folk, float on.
2017 was the year a lot of enterprising teams got their ship together! No puffy white clouds dotted the sky that year, but the colorful scenery to take in was floating on the river, cleverly designed by the river-goers rowing, paddling and splashing in the current. View the race results.
The inaugural year of the Rock River Anything That Floats Race had a ferry impressive turnout! Some of the most hip ships were featured in this recap video promoting interest in the 2017 race. Watch the video and ye may sight a leg-lamp on the horizon, or valiant seafarers straining at the oars!
Oceans of ingenuity, teamwork and enthusiasm went into the colorful rafts of the Rock River Raft Race of yore. Of course, not all of them floated the full length of the race course, but that just added to the sense of adventure - and comedy. First play the video and then check out the images for a little inspiration!